Commercial Electrical Contractor In Hicksville
Licensed & Insured | Quality Electrical Repair & Installation Since 1967
Free Estimates | Nassau County: (516) 597-5100 | Suffolk County: (631) 923-2400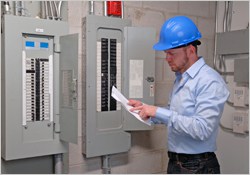 Nothing should come in the way of your work. Yes, this is important to keep your business on top. You might not have considered the importance of electricity but the fact of the matter is that it remains a crucial factor for commercial work that guarantees inflow of revenue. Who can work in a pitch dark environment? You must take the help of a company that ensures electrical services for commercial purposes too. Even the slightest of electrical challenge will be handled with great care and precision by the commercial electricians at Popkin & Son Electric.
We have many years of experience in dealing with electricity crisis. Some of the common electrical problems experienced are caused by trips and problems in the service panels. To ensure the inflow of potential customers and a favorable working environment for the employees, it is important for the owner to upgrade the electrical system. The first impression the customer has of your company starts forming the minute they notice good ambience provided by effective lighting.
To make the above happen, hire an expert team that will come over to your office or industrial building to thoroughly analyze all the electrical components including the way wiring has been distributed all across the apartment or plot. After that, they will submit their report on whether or not your commercial complex is in need of an electrical upgrade. If it is, here is a quick summarization of what all will be looked into whilst performing the upgrade.
The faulty or outdated electrical codes will be corrected, panels will be redone from scratch and new devices for prevention of electrical shock will be installed throughout the area, especially where heavy machinery is placed. Once this is done, you will never have workers coming up to you complaining about the panel box making weird, crackling sounds or lights flickering half of the time. Only the experienced team at Popkin & Son Electric will guide you about the latest transformers available for commercial uses. These include pad mounted, dry-type, or custom transformers and so on.
Just as in the case of residential areas, even commercial buildings and parking lots need proper security lighting. This not only keeps a check on burglars but exudes a sense of security to those who visit your office. A good looking office with landscape lighting can boost your sales by drawing much needed attention to the architecture of your construction. Also, if you switch to the energy saving electrical upgrade, these changes will assist you in making as well as saving a lot of money. Yes, the above mentioned mode also happens to the one with minimum maintenance costs.
Monthly follow up visits from the team of commercial electricians at Popkin & Son Electric will be carried out. All the detectors, for example for smoke, carbon monoxide will be looked into along with systems involved in heaters or cooling systems. Be it indoors or outdoors, no electricity related element will be overlooked. Hopefully, this information will make you realize the importance of contacting and hiring the commercial electricians at Popkin & Son Electric.
Call Popkin & Son Electric At (516) 597-5100 Or Click For A Free Estimate On Your Next Residential, Commercial Or Industrial Electrical Project