Oyster Bay Electrical Contractor
Licensed & Insured | Quality Electrical Repair & Installation Since 1967
Free Estimates | Nassau County: (516) 597-5100 | Suffolk County: (631) 923-2400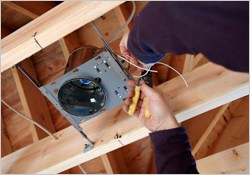 Are you tired of being subjected to glaring eyes and cold treatment from all your family members because you did something you should not have done? So, did try your hand at restoring the power lost but unfortunately made matters worse. Well, first of all you should not have tried the rule of 'DIY' or 'do it yourself' especially while handling electricity related problems for fear of fatal injuries. Secondly, you do not have to worry; you can still rectify the situation by calling Popkin & Son Electric, which employs the best residential electricians.
Do note that there is a lot of difference between the electrical needs for residential area and that of property being used for commercial purposes. Quite obviously, electricians for both residential and commercial areas are put through different types of electrical training. For your home, you must ask for a trained residential electrician to be sent over for rectification of electrical faults or system breakdowns. Here are a few cases in which professional help must be asked for.
If you are about to purchase a new home, make sure you hire a certified residential electrician to thoroughly check all the electricity run systems. This is an important step to ensure the safety of your family members. After a detailed check, the electrician will fill you up on the minor adjustments required; if any, followed by making those adjustments. The services provided by Popkin & Son Electric's residential electricians vary in accordance with your electrical needs and can be broadly divided into four categories. These include electrical upgrades for new or old homes, installation of special lighting systems, electrical safety with security and energy saving for the house.
With online services available, it is very convenient to contact trustworthy residential electricians from established companies for any of the given needs. The entire look of your house can be altered by illuminating the interior as well as the exterior. If you have longed for landscape lighting in your house or garden, you know who to approach for help. Illumination in the correct place can work wonders for your home décor, be it your kitchen or bathroom. This does not mean you will receive heavier electricity bills!
In the recent years, more and more people are choosing the wiser, energy saving alternative that is good for both, the environment and your personal savings too. One of the most convenient ways to do so is to get wireless lightning timers and dimmers installed within your house. Using these options, you can not only save more and also reduce the chances of a break in even when the entire family is out on a long vacation.
Plus, the look of your interior will not be disrupted by wires twisting over each other. All you have to do is to adjust the intensity of light through the use of a simple remote. It is always better to stay updated right? The same goes for your house and especially if you've have been noticing frequent circuit trips and flickering lights. Do not let your electrical system age, go for an upgrade and be sure to call Popkin & Son Electric for all of your residential electrical needs.
Call Popkin & Son Electric At (516) 597-5100 Or Click For A Free Estimate On Your Next Residential, Commercial Or Industrial Electrical Project