Rockville Centre Landscape Lighting
Licensed & Insured | Quality Electrical Repair & Installation Since 1967
Free Estimates | Nassau County: (516) 597-5100 | Suffolk County: (631) 923-2400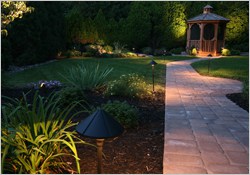 As a customer, you can forego worrying about the details of landscape lighting and leave it all up to Popkin & Son Electric. A professional and an expert electrician can make the right connections in the most cost effect and efficient manner and the end result can be nothing but amazing. From walkways, to patios, poolside lighting to tennis courts, we can fit some of the most efficient lighting that will help you see and play better. No glares, only smooth effective lighting for your outdoors.
There is nothing worse than taking a stroll in the garden and worrying about what you could be stepping on. Without proper lighting, a party that you throw in the gardens can become one of the dullest ever.
Our innovating lighting solutions allow you to adjust the lighting and its intensity according to your needs. Adjust your lights as you please.
Your landscaped greens or your swimming pool can look gorgeous with some innovating lighting solutions. Whether you like to have a party or a quiet evening by yourself, the right kind of lighting will make the difference. If you are looking for a landscaping electrician who can provide you with customized solutions for the outdoors, you have come to the right place.
Gardens are a joy to be in. If you have created a perfect landscape, you need the right kind of lighting to make it look even better. We provide innovative and customized lighting solutions tuned to your requirements for gardens, swimming pools and other outdoor areas. Electrical fittings, especially in the outdoors, require expertise and we recommend that you do not try to do it yourself. The outdoor lighting system needs to be efficient and designed in a manner that gives you the best results. At the same time, the lighting should be easy on your budget and conform to the monthly electrical charges envisaged.
Electrical work can cost a fortune and if it is not done well, be prepared to shell out extra over the maintenance. However, when you use our landscaping electrician service, you get the best price on the quality work that we offer. With little or no maintenance costs, our lighting solutions will last you for much longer than you might think. When we design a lighting solution, we choose products and layouts that are easy on your pocket and have a higher efficiency. The result, your monthly electricity charges remain much lower than expectations.
Our cost effective lighting solutions can light up your outdoors and your life. Our low voltage lighting solutions can lend that bright comfortable and safe look to your property. From Patio's to spas, we ensure that the lighting is safe, easy to use and efficient. All switches and outlets that we use and install are waterproof and absolutely safe. When it comes to lighting the outdoors, our services have remained unmatched.
If you would like to have more information about our services, you can contact Popkin & Son Electric and we will be happy to help you.
Call Popkin & Son Electric At (516) 597-5100 Or Click For A Free Estimate On Your Next Residential, Commercial Or Industrial Electrical Project